Gabriele Münter,
The Blue Lake

, 1934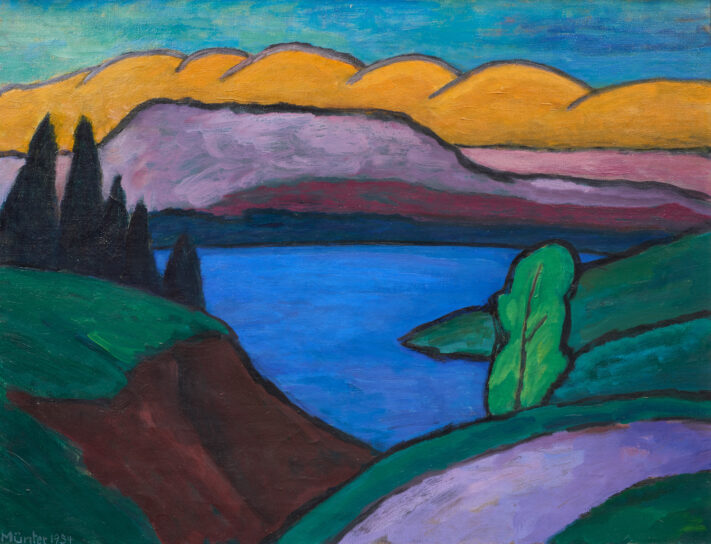 Oil on canvas, 50 x 65 cm
Collection Lentos Art Museum Linz, Inv. Nr. 211

The painting is a rendering of the view from Ludwigshöhe of Lake Staffel in Bavaria. While paying tribute to reality, it is marked by substantial abstraction. The black contours enclosing the colour fields have no equivalent in nature. Münter is clearly under the influence of the Fauves school of painting. Upper Bavarian reverse glass painting with its two-dimensional, non-perspectival draughtsmanship and its bright colours has also left its mark on Münter's oeuvre. ​"Der blaue See [The Blue Lake]" attests to a simplified pictorial ideal that has been uncluttered from all paraphernalia. Between 1923 and 1940 Lake Staffel, located in the immediate vicinity of the then home of Gabriele Münter and Wassily Kandinsky, was one of her favourite motifs. This version, which is part of the original holdings of the Neue Galerie, is dominated by tones of intense blue and violet. The massive cloud bank in the background is painted bright yellow by the setting sun. A study for this painting, now in the Städtische Galerie of the Lenbachhaus in Munich, dates back all the way to 1923.